We spent a grand total of 20 hours in Qatar during the summer of 2013 on our way back from Morocco to Hong Kong. Not the ideal time of year – hot and Ramadan, we none the less had a taste of this Middle Eastern oil nation.
When: July 2013
Where: Qatar – the main city
Who: Andrew, T and me
Weather: Soooo hot and extremely humid.
Food: Middle Eastern – lamb, fresh greens, bread and they even had some chips for Taliya.  As it was Ramadan restaurants are not open at all during the day. We ate breakfast and lunch inside the hotel (which had curtains over the doors). In the evening we ventured out to the market area and found a large restaurant serving local food. Very delicious.
Sights: Well, as we spent most of our time indoors we sadly didn't see too much. We walked through the market area which was fun. It's mainly geared to tourists I think, but we certainly saw people shopping for clothes there.  It is partly covered, with some relaxed restaurants with outdoor seating. There is a world-renowned Islamic museum, which was closed as it was the last few days of Ramadan.  It is basically a giant construction sight so not all of what we saw was not exactly pretty.
Surprises: For me it was quite how humid it was. Coming from Hong Kong we are used to summer heat and humidity – but this was something else. Poor little T faded very fast.  Oh, and I like the pedestrian crossing signs – definitely not in Kansas anymore, Dorothy!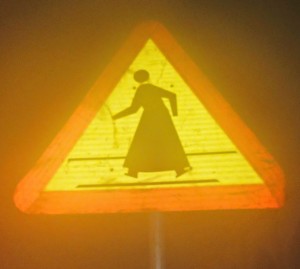 Tips: Really – avoid going in the summer and during Ramadan. The place is really shut down. That said, it's worth a quick stopover.