Yangon, formerly Rangoon, formerly capital of Myanmar was our entry and exit point for our trip to Myanmar.  We ended up spending about 4 days there all in all. 1 day at the start and 3 days at the end. We stayed in comfort at the Royal Lake Chatrium which was lovely, relaxing and had a pool for Tali to swim in. We took a guide and driver on one day which was absolutely worth while with Tali. Buses are over-crowded and taxis are fine, though without speaking Burmese not always easy to get to where you want to. What follows are some of the photos we took during our time there. The standout site for Yangon is the large and spectacular Shwedagon Pagoda, link to my post on that here!
The streets surrounding Sule Pagoda are home to some ethnic minorities so we saw mosques, Indian restaurants and also found a very bustling Chinatown.
Our day out with a guide took us to three temples, the old colonial Strand hotel, past Aung San Suu Kyi's house, lunch at a local restaurant and a walk through a market.
Chaukhtatgyi temple itself is more like a large steel-framed warehouse. It's open and airy making it possible to see the large Buddha from all sides.
Our next stop was Kyauk Daw Kyi – where you can see a large and beautiful seated Buddha made from one piece of marble. Steps leading up to the Buddha are equally beautiful.
We stopped briefly outside the former home of Aung San Suu Kyi, where she spent most of her years of house arrest. She currently lives in the capital Nay Pyi Taw and the house is not open to visitors. I peeked through the gap in the gate and it was strange to think she had been kept there for so many years – away from her family.
Our guide took us for lunch in a local place. It was lively, busy without being crowded and the food was great!
The afternoon saw us at the waterfront and the Botataung Pagoda which houses a strand of the Buddha's hair. The case for this is inside a gold-leaf maze in the interior of the main stupa. At the time of our visit the outside of the stupa was covered with mats while it was being renovated and re-painted.
At my request, our guide took us to an art gallery to see some local contemporary art. It was a small space with several different artists on display. Acrylics and oils dominated, but there were some water-colours too. I wasn't very taken with much of it – too chocolate-boxey.  Tali, however, had a lovely time trying to match the paintings she could see in the catalogue with what was on display.
Street food and street tea shops are a common site in Yangon. We didn't have too much of it, but I would definitely indulge in more on my next visit.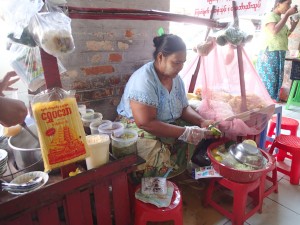 We strolled around the Bogyoke Aung San Market, also known as Scott market. This large indoor market caters to tourists, so it's packed with souvenire clothing, fans and gems. The streets surrounding it cater to locals and tourists and include fresh food, clothing and street cafes.  The upstairs of the market and the nearby buildings are a wonderful mixture.  The upstairs of the market seems to be seamstresses, whilst the surrounding buildings had camera shops, hairdressers, gem merchants, jade dealers and puppet makers.  We got some longyis (traditional Myanmar sarongs) for all of us.
Many women in Myanmar apply a kind of make-up / sun screen to their faces. It's called thanaka and is made from the ground bark of trees found in Myanmar.  It is made into a pale yellow paste that is put on the forehead and cheeks.  It can be applied in wide strokes on in more intricate designs. It is not only a cosmetic product but also acts as sun protection.
Driving in Myanmar is unusual in that the cars are right-hand drive, but they drive on the right side of the road too. I've no idea how drivers see on-coming traffic clearly. Rather them than me!
All in all, we enjoyed our time in Yangon.  I hope to go back to Myanmar sometime to see more of the country. I would definitely stop in Yangon, though not for long as I feel we got to see the best of it. The people are friendly and there is definitely enough to keep you busy for 3 or 4 days for sure.