Our family Christmas present to ourselves was a short trip to Iceland. Between Christmas and New Year we found ourselves hopping over from the UK. T. wanted to see snow (Thank you 'Frozen'!) and of course I'm always after a new country – so Iceland it was.
When: Late December 2015
Who: A, T & me
Where: Reykjavik, Selfoss & Vik (the south west)
Weather: Cold, but not silly cold. Temperatures were around freezing. We had snow, rain and sleet, some icy winds. The main thing to remember about weather in Iceland is: Changeable
Food: Lots of fish (no surprise there). Salmon features heavily. Other meats include lamb. Some restaurants offer puffin and shark meat but as these are not sustainable we didn't eat those.
How: booked a self-drive package tour with Iceland Unlimited. Unusually for us we went with an agency. This is very common in Iceland and there are loads of operators all offering pretty much the same options: day tours, driven guided tours (one day or multi-day) and self-drive tours. We chose to go through an agency to save hours of time on Tripadvisor and booking.com. After much deliberation and emails with agencies we decided to go self-drive as group tours might not cater for T and the private guided ones were too expensive for us. The agency booked the hire car, hotels, provided us with a map (route and sights highlighted, a phone, GPS). All very easy really.
Sights: From Reykjavik the main sights are along the well-trodden (or driven) Golden Circle. As we arrived at midday we only made it to the Geyser and not the waterfall before we lost the daylight and needed to drive to our hotel for the first night.
Waterfalls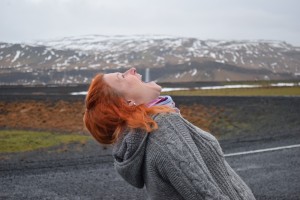 Northern Lights – this is the time of year to see them, however, this is entirely dependent of having clear skies. During our time there we pretty much had constant cloud cover, so sadly we didn't see them.
Pretty countryside: Looking out of the window as we drove was an utter pleasure. The landscape is stark, rugged and glorious with a covering of snow.
Museums: There are a plethora of museums in Reykjavik which we didn't really get to. The Folk Museum at Skogar was fascinating. We especially liked the open air part which included reconstructed turf houses.
Activities: Much of Iceland's activities are outdoor adventure activities such as hiking, glacier walking, ice-caves, scuba-diving (warmer months). Horse riding and puffin watching. To be honest T. couldn't do most of these but we still had fun as we were able to swim everyday. Due to the lovely geothermal activity of Iceland swimming pools are heated and open all year round. We went to the local pools on 2 days (complete with lap-pools and hot tubs) and on our last day went to the famous Blue Lagoon. The swims were definitely a highlight for us. Sitting outdoors in hot water while the snow falls down around you is quite wonderful. As we had some snow T. was able to build snowmen which she was thrilled about as that was all that she really wanted to do.
Notes & Tips: In December there is very limited daylight, so be prepared to do lots of driving, walking and sightseeing in the dark.
Take advantage of the local swimming pools – even in winter. Be aware, it is expected that you shower fully naked before putting on your swimsuit and getting into the pools. Don't be shy, everyone is in the same situation!