Victoria Falls (a.k.a. "The Smoke That Thunders" is truly a wonderful site. The falls border Zimbabwe and Zambia was seen by my grandmother in 1925 and myself in 1998. I saw the falls up close from the Zambian side, and bungee jumped from the bridge between the two countries during my Africa Overland trip in 1998.  Not quite the same sort of visit my granny had!
Sadly my bungee jumping pics came out all blurred – so I won't include them here, otherwise that would have made an awesome comparison.  You'll just have to imagine me dangling upside down from the bridge attached by a large piece of elastic!
In 1998 I got to see the falls and the bridge from the air when I took light aircraft flight. Just magic!
Girls across the generations – girls ready to party, 73 years apart.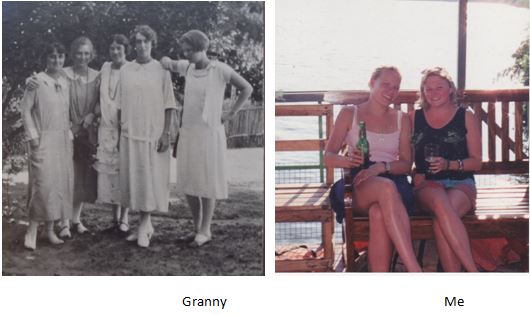 It looks like we both had a great time!  A highly recommended place – if you ever get the chance – GO!