"So what did you eat?" – pretty much the second question asked to us after our trip to Azerbaijan. (The first being – "Azerbai-what? Where's that?")
Two words come to mind when thinking about eating in Azerbaijan. Fresh and repetitive.  Nearly every restaurant, cafe and household makes their own butter, cheese, jam and bread. Vegetables are homegrown and all of it tasted amazing.  Breakfast is bread, butter, eggs and cheese. These can be simple or elaborate such as the one we had in Baku after our overnight train back from the mountains.
Lunches are bread, butter, cheese, grilled meats and vegetables.
Order a salad and this is what you might get:
A common dish is meat, potato and vegetables, cooked and served in a wok-like dish and served with pita bread. Greasy but yummy!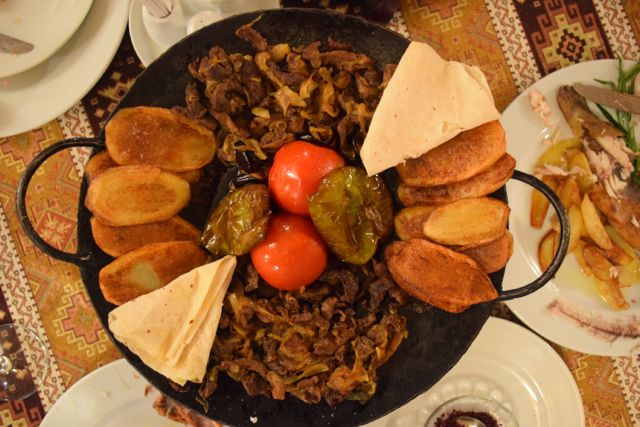 Another popular dish is 'dolma', which are dumplings made of minced lamb and onions wrapped in vine leaves. These are steamed and served with sour cream.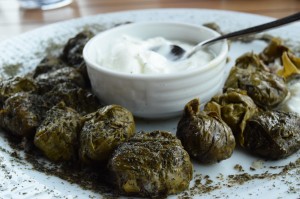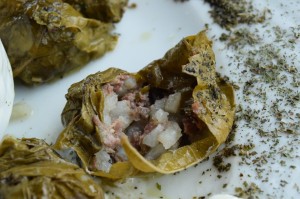 Whilst in the small town of Sheki we sampled the local speciality – Piti. This is a sort of soup and lamb stew all rolled into one. Ours was served in a small ceramic pot, lamb in soup with a blob of fat floating on the top.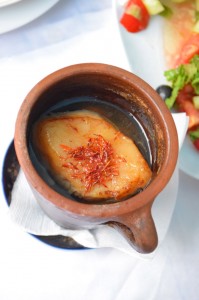 Using our Lonely Planet guide to help us we ate it as instructed – following step by step:
The fat and meat are scooped out into a separate bowl.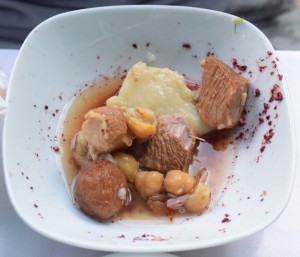 Add sumac for additional flavour and mix together and enjoy.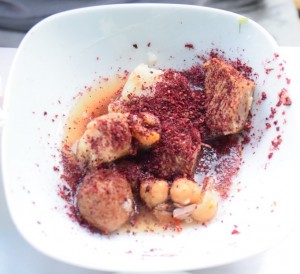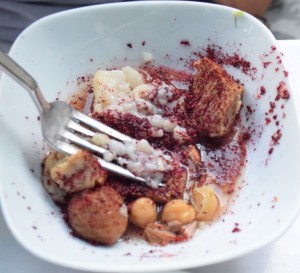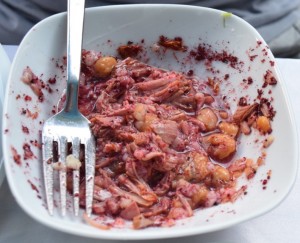 It wasn't quite my thing, but we enjoyed the whole process.
Sumac is a flower that is dried and added to meals to give a tart flavour. I brought home a jar and add it my houmous and salads.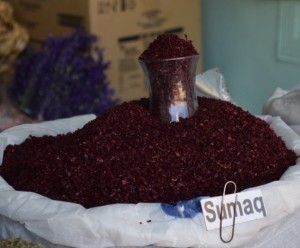 By far the most popular meal and food in Azerbaijan is tea.  Tea is drunk in small clear glasses with generous amounts of sugar. It is often served with homemade jam which is eaten on its own straight from the spoon.
I did enjoy the food in Azerbaijan despite the repetitive nature and large quantities of it. As it was so fresh and homemade we all felt healthy.